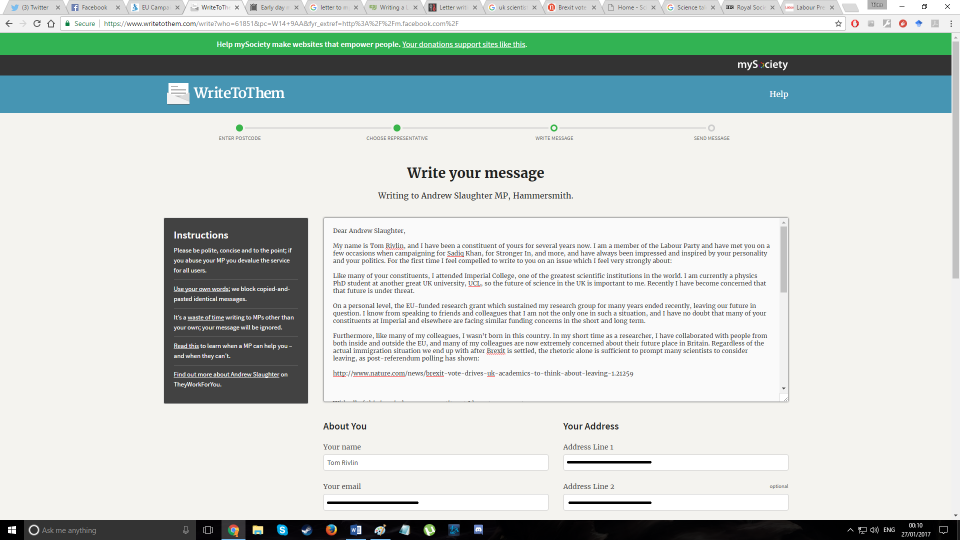 These are dark times, with democracy under threat in a way we haven't seen in decades. But for now we do live in a democracy. We still decide who rules us. They are not our masters; we are theirs: They work for us. I just wrote to my MP. You should write to yours.
The message was sent using a template provided by writetothem.com, partially based on a script provided by the Science Is Vital advocacy group, but it's almost entirely my own words, my own feelings, my own call to action. If there's an issue you feel strongly about, I encourage you to add your own voice to the shout.
Here's the full text of the message I just sent to my local MP, a lovely man named Andy Slaughter whom I have met several times:
"Dear Andrew Slaughter,
My name is Tom Rivlin, and I have been a constituent of yours for several years now. I am a member of the Labour Party and have met you on a few occasions when campaigning for Sadiq Khan, for Stronger In, and more, and have always been impressed and inspired by your personality and your politics. For the first time I feel compelled to write to you on an issue which I feel very strongly about:
Like many of your constituents, I attended Imperial College, one of the greatest scientific institutions in the world. I am currently a physics PhD student at another great UK university, UCL, so the future of science in the UK is important to me. Recently I have become concerned that that future is under threat.
On a personal level, the EU-funded research grant which sustained my research group for many years ended recently, leaving our future in question. I know from speaking to friends and colleagues that I am not the only one in such a situation, and I have no doubt that many of your constituents at Imperial and elsewhere are facing similar funding concerns in the short and long term.
Furthermore, like many of my colleagues, I wasn't born in this country. In my short time as a researcher, I have collaborated with people from both inside and outside the EU, and many of my colleagues are now extremely concerned about their future place in Britain. Regardless of the actual immigration situation we end up with after Brexit is settled, the rhetoric alone is sufficient to prompt many scientists to consider leaving, as post-referendum polling has shown:
http://www.nature.com/news/brexit-vote-drives-uk-academics-to-think-about-leaving-1.21259
With all of this in mind, as your constituent I have two requests:
– Whilst I accept that eventually you must vote to trigger Article 50, and understand the difficult electoral position Labour finds itself in over the issue, I see no reason why the ratified bill must be on whatever terms it is first submitted to Parliament with. Whilst I would greatly prefer it if freedom of movement could be preserved, at the very minimum I would be disappointed if you voted for an Article 50 bill without the amendments proposed by Labour:
http://press.labour.org.uk/post/156404587259/labour-tables-targeted-amendments-to-article-50
– There is an Early Day Motion proposal concerning the future of funding in the UK post-Brexit: EDM 772 (full text attached as postscript). It would bring me a great amount of relief to know my MP has signed this bill.
Thank you so much for taking the time to read my concerns.
Yours sincerely,
Tom Rivlin
Full EDM text:
Access to EU research programmes
That this House recognises the importance of maintaining the UK's world-leading research base; notes that this is vital to the UK's international reputation and to its future health, environment and economy; emphasises that science is international and depends on the freedom of all researchers to seek collaboration and training around Europe and the world; further recognises the unique collaborative opportunities provided by EU research programmes through international movement of researchers allowing skills and knowledge to be shared; further notes that the UK is a net beneficiary of the EU research budget which currently provides 10 per cent of UK public-funded research; and calls on the Government to preserve access to these vital EU research funding programmes whatever the form of the UK's future relations with the EU.
Link: www.parliament.uk/edm/2016-17/772 "
Don't give in to despair: keep fighting!